Nobody is born knowing it all, no matter how confident we feel. And parenting is no exception. True, there is nothing like a mother's intuition and much of parenting is based on instincts- after all YOU know your child better than anyone else. Sometimes though, it helps to have a little guidance when times are starting to look a little tough. There is no shame in that! Many women struggle with breastfeeding at first, and there are many reasons for this. Today's post on breastfeeding for beginners is looking at those little tips and tricks that have worked for other nursing mothers- perhaps they'll help you out a little too.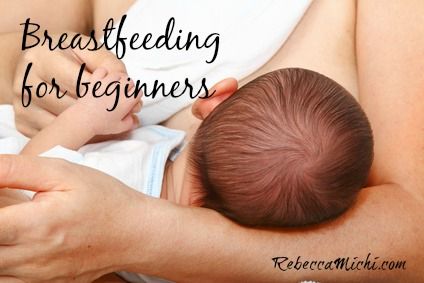 Establish your reasons for wanting to breastfeed…
It really does help to do some research, especially if you're on the fence about feeding. Breastmilk is proven to be the best source of nutrition for your baby and all that is needed up until at least six months of age. Breastfed babies gain around 400 different nutrients in each feed, as well as hormones and disease fighting compounds that are just not found in formula. Not only that, but breastmilk changes as your baby grows and develops, so each and every feed is tailored to your baby's needs. That said…
Don't feel pressured to choose breastfeeding if it is not right for you
Breastfeeding is a personal decision. It is not always the best option for every new mother and baby, and sometimes it is more important to consider emotional well-being. If that means using formula milk suits your family better, try not to let it make you anxious. As they say, breast is best, but mom's happiness is just as important.
If you do decide to breastfeed…
Be prepared for the journey! For lots of women, baby latches on relatively easily and feeds are established fairly quickly. For others though, it can be a slightly more bumpy ride, so here are a few tips that might help you along your way:
Seek help in establishing breastfeeding. Even if your newborn appears to be feeding well, it doesn't hurt to check your positioning and baby's latch in the early days. Any problems will be ironed out quickly and a regular feeding pattern can be achieved without stress or anxiety.
Don't be afraid to seek help if you think something is not quite right. Even if baby is gaining weight well, your own instincts are worth paying attention to. If you think that you need support, ask for it. Speak to your doctor about finding a lactation consultant, or look online here.
Let everyone around you know that you intend to breastfeed- including your medical team, friends and family, and ask all concerned to be supportive of your decision.
Discuss the implications of your plans to breastfeed, in terms of sleep. Lots of women find that breastfeeding requires them to take the lion's share of night duties in the early days, but that doesn't mean that partners can't do their bit too. It's important to discuss what could work best for your family. Ways that your partner can help during the night feeds include taking it in turns to lift baby from the crib for a feed; bringing water and snacks to refuel and re-hydrate; dealing with other kids if they wake; burp and change baby after feeds. Not only will this help with balancing the duties, but it can help partners to bond with baby too.
Practical tips for breastfeeding mothers
Once feeding is established, house rules have been agreed, and you and baby are good to go, it's worth considering a few practicalities of it all. Lots of new mothers feel self concious about feeding in public, rightly or wrongly, and it's only natural to be a little apprehensive. Don't pressure yourself- if you don't feel comfortable then make plans to be home around feed times. When you're at home try these tips to help make things a little easier:
Build a breastfeeding basket. Pop in diaper changing items, a few snacks and bottles of water for you. Don't forget some muslin cloths and something to read too!
Make sure you are sitting comfortably. Some babies are more efficient feeders than others, but lots of mothers like to use the time spent feeding with their feet up- and rightly so! Cherish the time sitting with your baby and enjoying the bonding process as much as you can. Make sure your back is supported with plenty of cushions and that baby's position is comfortable for you too.
If you want to express feeds so that your partner or another family member can help with the feeds, make sure you have all the equipment ready and waiting for it. The more you express, the more your supply is boosted so if you are worried about your supply this could be something to talk to your doctor about. Try to find a quiet, calm space to express and take your time as if you were feeding baby.
 Drink lots and lots of water. This is essential to keep you hydrated!
If you do decide to breastfeed while you're out and about (and chances are that will happen eventually), here are some practical tips to help there too:
Invest in some comfortable nursing clothes that allow easy access for feeds. A hungry baby is not always the most patient of people so it helps to be able to feed as quickly as possible when the need arises.
Find somewhere quiet and relaxing to feed your baby. This isn't always easy, so ask ahead of feeding time in case there is a room that you can use if you need to.
Keep all your breastfeeding supplies in your diaper bag when you go out so that you have it all to hand, much like your breastfeeding basket at home.
Pack a large muslin or scarf if you prefer to cover up a little during your feed. This is entirely your choice.
If you do feel self concious, don't panic. In the early days getting baby to latch on can make you feel anxious, especially when you're out in public, but take your time. Baby will latch on and nobody around you will take any notice at all.
If the idea of feeding in public worries you before you leave the house, practise in front of a mirror first. This will help you to get an idea of what others are likely to see when you do feed- if they are inclined to look.
Use a sling or baby carrier to hold baby while you feed. This can help keep baby in the right position and lots of mothers have even found that they can carry on feeding whilst they stand or walk around too.
Breastfeeding is natural
Don't let the opinions of others get in the way of what is one of the most normal aspects of human life. A hungry baby needs to be fed and there is no reason why that should create a scene, wherever you are. But remember that if you experience problems, or you feel that you would like to stop breastfeeding, do seek support before you make any final decisions. Breastfeeding can be hard, but it can also be wonderful. However long your journey lasts, each and every feed that you give your baby is precious.
Comments
comments