When you become a parent, you enter into a world of worry. Will baby be ok? That is your first concern, and that leads the way for more and more worries that simply do not go away; instead they change and evolve depending on your baby's age. Is she feeding enough? Will lack of sleep make her poorly? Why isn't she rolling over yet? Will she ever say her first word? When will she take those first steps? And when your baby is finally mobile, you know what happens then don't you? A whole set of new, very genuine, worries emerge. It is estimated that around 2.3 million children in the US are injured at home every year, with 2,500 cases being fatal. Accidents in the home are a very real concern for every parent and it is up to us to make sure we do our best to prevent them.
To help you, we've written a quick guide with the help of Melissa Moog, Childproofing & Baby Safety Expert. Melissa writes atItsaBelly and has locations in Portland & Seattle. ItsaBelly are professional members of IAFCS.org (International Association for Child Safety).
Here are her tips on baby-proofing the house- for your peace of mind and for baby's safety too.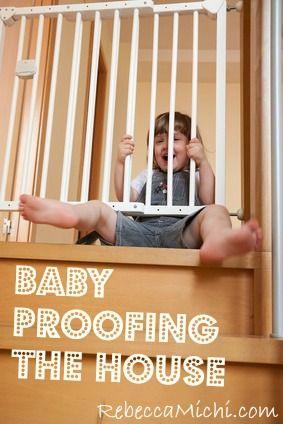 Baby proofing the entire house can seem daunting at first, but if you move through the rooms of your house methodically, you'll find it easier than you thought. Melissa told us that
" Itsabelly has babyproofed many homes in the Pacific NW and usually the most common areas parents want to make extra safe are the kitchen, nursery, family room, areas with stairs, bedrooms and bathrooms. However, Itsabelly suggests parents babyproof any space that the child spends the most time in. "
When you know which rooms to focus on, you need to think about when you need to start the baby proofing.
Before baby arrives
Install carbon monoxide detectors throughout the house
Install and check smoke detectors throughout the house
Agree a fire escape route with the whole family
Make sure night lights, if you use them, are kept away from flammable materials such as curtains
Keep a first aid kit handy and well stocked
Keep emergency numbers by the telephone so that you and your partner know where they are at all times
Put safety locks on all cupboards containing medicines, sharp objects and chemicals- ie, cleaning products
Enrol on a child first aid/ CPR course
Melissa advises parents to "make sure their smoke and carbon monoxide alarms are in working condition and if battery operated that batteries are checked every few months. Additionally, where possible use cordless blinds or at least make sure to keep blind cords far from the reach of children as this can cause strangulation.
Itsabelly also recommends as the weather warms up and windows are open that parents make sure windows do not open more than 4 inches & are locked into place to prevent children from falling out. "
When your baby arrives
Melissa says "Babies on average start to crawl around 8 months of age and this is usually when safety issues start to occur. Itsabelly suggests parents startthinking about baby proofing around 6 months of age. It's especially important to baby proof before baby starts crawling, lifting themselves up on furniture and toddling around."
For a quick guide:
Itsabelly's top 5 safety items are:
Baby Gates
Cabinet, Drawer, Door Locks
Window Safety Locks and Guards
Anti-tip Furniture Straps
Anti-tip TV Straps
In the Kitchen:
Locks on cupboard doors
Knives out of reach
Prevent access to hot taps
Use an oven guard
Don't hold baby while you are cooking
Turn pan handles away from the edge of the stove
Keep kettles away from the edges of work surfaces
Don't carry hot food or drinks while you are holding baby
Keep electrical items out of reach
In the Hallway:
Use stair gates
Keep plants out of reach
secure heavy furniture
Use corner guards on furniture
In the Lounge:
Cover electrical outlets
Secure television and other furniture
Secure blind cords
Keep baby from climbing on furniture
Protect radiators and heaters
In the Bathroom:
Never leave baby unattended in the bathroom, especially at bath time
Fill tub only enough to cover baby's legs
Use warm water for the bath and always test first
Use non-sip bath mats inside and outside the tub
General safety around the house
Never leave baby alone in bouncy chairs, on beds or sofas, or any spot she could fall from
Use door guards to prevent little fingers being trapped
Keep matches etc out of reach
Keep trash cans out of sight
Block access to DVD/ CD player buttons and slots
Always use safety fastenings on highchairs etc
Ensure toys meet safety standards and are clean
For more information please see the Itsabelly article posted on Parenting in Portland and do please get in touch if you have any questions at all.
Comments
comments