For some babies, learning to sleep all night is a tricky thing. It doesn't always come naturally, and it isn't something that just happens overnight either. Most babies do learn this all by themselves, but some will need a little extra help, and that's fine! The Michi Method is all about gentle sleep training methods that don't require you to leave your baby to cry- so you can rest assured that you can be there for your baby whenever she needs you. So how do you deal with a baby that wants to nurse all night and you want to be there for her? Read on to find out.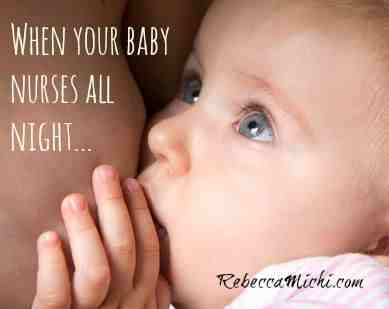 Why does baby nurse all night?
If your baby tends to nurse a lot at night, and not so much during the day, there could be many reasons why. Sometimes, newborn babies have their days and nights mixed up and this usually sorts itself out as they get older. But sometimes older babies will nurse all night for other reasons too:
Baby is too easily distracted during the day. Perhaps there is too much going on during the day to get a good feed, or perhaps you're out and about a lot so being in the stroller or the car etc sends baby to sleep a lot more easily. More sleep during the day means less feeds.
Baby could be in the middle of a growth spurt, or a developmental leap. See this post for more details.
Baby may take feeds from a bottle during the day but prefer the breast, so wants to feed more at night.
If any of these scenarios sound familiar, don't despair. There are things you can do to get the nights back on track!
How does nursing all night affect sleep?
Having your baby nurse from you all night can be exhausting for you, and for baby too. Constantly feeding rather than sleeping means that sleep is constantly disrupted. So while some babies will wake to feed and then fall straight back to sleep, others will not sleep so well in between feeds. These babies tend to need to feed in order to fall back to sleep, so they will want to nurse constantly in order to be soothed back to sleep.
If your baby spends more time awake in between feeds at night than during the day, it's time to make some changes.
Making changes
If your baby nurses all night and you manage to sleep through the feeds and inbetween, then it might not be an issue for you. Bed sharing in this instance might work really well, and certainly some mothers find that nursing this way helps them to get more rest than if they were to get up and feed in another room. But if your sleep is being affected, and you're feeling sleep deprived, here are some tips to help:
If your newborn has day and night muddled, try to make the distinctions as clear as you can. Keep noise to a minimum at night, and make sure rooms are darkened. During the day, keep things as normal as possible so that your baby can tell the difference.
If your baby is too distracted during the day to feed effectively, work to ensure that you set aside plenty of time for feeds. When baby pulls away from the breast, wind her then offer the other side. Make sure your feeding environment is as calm and soothing as possible and if needs be, take note of the times you feed and how long the feeds are. Work to increase the feeds that are less than 20 minutes.
If your baby feeds less because you're busy during the day, see if you can take steps to cut down on your activities. Clear your schedule for a few weeks if you can, and really focus on establishing a good feeding pattern. Try to add in some cluster feeds too- early afternoon and early evenings are good times for this, so that baby is able to 'stock up' for the night ahead.
If your baby is having a growth spurt or going through a developmental leap, there is little you can do except ride it out. This too shall pass!
Of course, for the baby that wants to nurse all night because that is the way that she falls to sleep, it's possible that none of the above will really help. Gentle sleep training methods are needed in these cases, to help your baby learn to soothe herself and fall asleep independently. Please do get in touch if you'd like more help on this!
Comments
comments