Happy new year!
Now is the time that many families start to look at the ways in which they can improve their lives a little, and adjusting the things that aren't quite working for them. Lots of us look to our health and fitness, which leads me to ask- did you know that sleep affects your health and fitness just as much as diet and exercise? And if you have a baby or toddler with sleep 'issues' maybe it's time to take a look at the things you're doing to improve the situation. Each week on my Facebook page I ask about the things families are working on with their sleep- whether they're working on increasing nap time, cutting out a nap or extending night time sleep… so what are you working on at the start of the new year? Time to update your new year's sleep resolutions?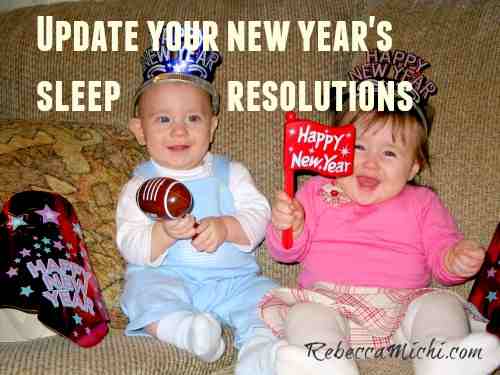 What resolutions did you make?
Think back to last year, and the resolutions you put in place where sleep was required. Perhaps you wanted to get your little one sleeping all night in their own bed, or switched from crib to bed? Or maybe you wanted to re-structure your daytime routine for better naps? Maybe you didn't make any resolutions at all? If so, think about the things you've been working on sleep wise this year, and how the changes you've made already have worked out.
If there are areas of your family's sleep that hasn't improved, or you still have some work to do, it might help to make a list of the things you want to change. When you see a list of the things you want to work on, it might help to make it all seem a little less daunting and a little more achievable.
Set some realistic goals
New year's resolutions often 'fail' because we tend to go in with plans much grander than is realistic. If this sounds like you, re-read your list now and see which points might not be achieved as easily as others. For a baby that has never slept more than three hours in a row at night, there's no point setting a goal for them to sleep six. You'll only get frustrated! Things that you can work on include:
helping baby learn to fall asleep independently
extending time in crib/ time asleep at night
Find out more about naps in this post here.
Re-evaluate your baby's sleep needs
As your baby grows, the amount of sleep she needs changes, and so should your routine. That's why its a good idea to keep things as flexible as you can, so that you can adapt your approach as your baby gets older. Now is a good time to re-evaluate your routine and your baby's sleep needs- see this post for more information.
Remember your sleep training methods
Over time, it's easy to get into new habits and this is especially true during the holidays. The new year is a great time to take stock of the way in which you've been handling sleep issues and to have a little refresher on your sleep training methods. Remember that sleep training does not mean leaving baby to cry it out! Nor does it mean ignoring your own instincts; rather, instinctive parenting is actively encouraged at all times. But that doesn't mean we don't all benefit from a little guidance from time to time. Here are some posts you might want to re-read:
What are you working on in your sleep this year?
Comments
comments