It has to be said that most of the time, your baby's biggest form of entertainment is you. She will watch your face closely right from birth, and her fascination with you as you go about your day increases as her awareness develops. But that doesn't mean she won't benefit from other sources of entertainment too! Here are a few tips for entertaining your baby.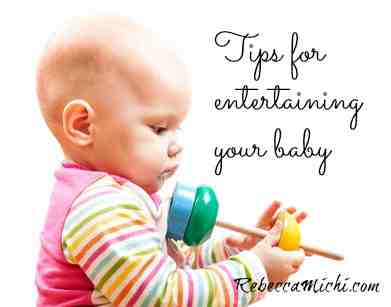 Use the senses
Babies rely on their senses to make their way in the world, and this starts right away. As soon as your baby is born she will recognise your smell and your voice, and she will rely on the sensation of touch to comfort and soothe. As she gets older, this reliance on the senses intensifies and she will start to explore new tastes, sights, sounds, smells and textures. Each day brings a new surprise! Keep this in mind when you choose new toys for your baby, and go for age appropriate forms of entertainment too. Leading to my next point…
Go for age appropriate entertainment
The way that you interact with your baby from a young age can have a long lasting impact on the way that they development and their understanding of the world around them. Spending quality time with your baby will help you to learn more about their character, their likes and dislikes, and the ways that they develop and grow as the weeks pass. With this development in mind, it's a good idea to know a little about the way that babies interact at different ages.
Newborn babies are born with less than perfect hearing and eyesight, so keep interaction and toys as simple as you can at first. There's no need for lots of bright, flashing toys with multi functions at this stage, and many of these toys will be labelled as suitable for over three months anyway. Newborn babies respond well to contrasting colours such as black and white, or primary colours- and the bolder the better- the contrasts are easier for their developing eyes to distinguish. And remembering that YOU are top quality entertainment too, it makes sense to spend time talking to, singing to and being close to your newborn, and allow her to study your features as much as she likes. She'll already be familiar with your voice and she will love to watch you smile, speak and laugh too.
3-6 months babies are able to look around and take in more of their surroundings and you'll notice that she has a little more control over arms and legs too. She'll be able to respond better to sounds also start to recognise other voices and familiar tunes too. At this stage. musical toys are great to use, but don't forget your own voice! By the end of her third month your baby should be able to hold on to a toy such as a rattle, and will be able to reach for other toys too. Sensory play continues to be a great idea- use soft fabrics for your baby to lie on and let her feel different textures as she kicks.
6 months +– from this age, your baby will start to sit up independently, and reach for toys by herself too. You'll probably have a really good idea of which toys she likes and which she doesn't!
Keep it short and sweet
Young babies especially can tire very easily, and over stimulation can often be the cause of your baby struggling to get to sleep when you want them too. Keep play sessions short and sweet, and watch for signs of tiredness.
Some babies can also become frustrated if they're unable to manipulate a toy in the way that they want to, so help them out if you feel they need it. Give plenty of opportunities for your baby to work towards reaching for an item, but don't let them grow too frustrated either. Keep watching your baby and when she becomes less interested, or fussy, take that as your cue to wind things up. Also watch out for signs of tiredness, such as rubbing her eyes, yawning and fussing. It's also a good idea to stick to one toy at a time so you're not inflicting sensory overload- don't bombard your baby with lights, music, textures and so on. Gently does it.
Tummy time
It's recommended that babies have some time on their tummies every day, and this can be a wonderful opportunity to entertain your baby, especially as some babies might not like it very much. See our post for more tips.
Baby massage
There's no reason why you can't make baby massage part of your play with baby. Studies have proven it also helps them to sleep too, so what are you waiting for?! As you gently massage your baby, talk to her (or sing) and use the time to strengthen your bond. You can play soft music, dim the lights and create a relaxing sensory experience for your baby quite easily. See this post for more tips.
Comments
comments