There are many misconceptions surrounding Sleep Training, and the biggest one is that babies are left to 'cry it out'. True, some sleep experts do advocate leaving your baby to cry, but not all do. The Michi Method certainly never encourages parents to leave their babies to cry, and there are very good reasons for that. So if you're in need of some help with your baby's sleep, but you want to remain a responsive parent who does not ignore their baby's cries, then read on. The no cry sleep solution is sleep training at it's most gentle.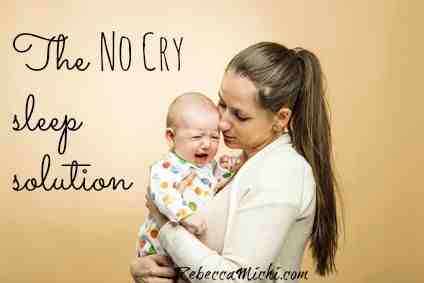 Why sleep train?
Some babies need a little help learning how to fall asleep. Simple as that. We are all different and we all have different needs, so some babies will sleep a little more than others, and some will need less sleep than others. We are exactly the same as adults. Now think to those nights- and I'm sure we've all had them- where we just cannot get to sleep. We lie there, frustrated and tired and yet we cannot get comfortable, or we cannot switch off, or we are simply too tired and perhaps too over stimulated from a busy day at work. We just cannot sleep. It's frustrating! Wouldn't you like some help to get you to sleep on those nights? Babies are no different.
Some babies find it hard to switch off, or they find it hard to settle at night for lots of different reasons. Often you seem to get the sleeping on track, and then teething or an illness comes along and it can all go askew again. Some babies seem to have never slept well at all! And while it's easy to explain this with a dismissive Oh, she never sleeps, how about trying to do something about it instead?
Sleep Training does not mean having to go against your natural parenting instincts. It does not mean you mould or shape your baby into a sleeping machine against their will. It simply means you guide them, and help them to learn the art of sleeping.
No why no cry?
Babies cry for a reason. Because they cannot communicate in any other way, a baby's cry is an essential survival tool, and we as parents are finely tuned to it. You know how the sound of your baby's cry really grates on you? There is a reason for that. We are designed to loathe the sound of our own baby's cry so that we are compelled to go to them, to soothe them and to meet their needs accordingly. If the sound of your baby crying did not bother you one bit, your baby would be unable to communicate her needs to you.
So if you know that your baby cries because she needs something- a feed, a nappy change, YOU- or because she is in pain (from illness or injury) or because she is feeling frustrated or angry or tired, do you really want to ignore that? Your instincts tell you to go to her, and they do that because that is the way we have been designed. You can help her and you can soothe her. That is your natural instinct and that should never be ignored.
Another point to consider is that babies are fast learners. If you respond positively to her when she cries, she is more likely to learn to trust you and to build confidence that you are there for her. She is not old enough or crafty enough to take advantage of you. If you do not respond to your baby, there is every chance that she will stop alerting you when she needs something and while this may indeed result in more sleep for you in the short term, it does not actually improve her sleeping habits at all.
How does the no cry sleep solution work?
Simple. When your baby cries, go to her. Be with her and gently guide her back to sleep. This can be time consuming, patience wearing and incredibly difficult at times. But this method of sleep training will teach your baby that you are there for her. You are responding to her calls for you and you are reassuring her. You are also showing her that going to bed and sleeping is fine. When you are finding it hard, it helps to remember your long term parenting goals: to show your child that you will always be there for her. Proving that to your baby starts early.
If your baby wakes, try these tips for soothing her back to sleep:
Use your voice to calm her down and hopefully soothe her back to sleep. She has been listening to you for nine months already, so your tones are likely to be a source of great comfort to her.
Pick her up. Hold her close and allow her to calm down as you do so. If she needs you to rock, swing, bounce or pat her then do this. You know your baby and what will soothe her well.
Listen to her. Every cry has a different meaning and sometimes a baby will cry because she is tired and she is falling to sleep. Sometimes she will not need you to pick her up and if you really concentrate on deciphering her cries, you will realise when this is. An urgent cry is more likely to mean that she needs you (often NOW) and wants you to pick her up. A softer, moany cry may just be her way of falling to sleep.
Try to put her back into her crib before she is asleep, so that she is able to see that sleeping in her crib is ok.
Once back in the crib, maintain contact with your baby- place your hand on her chest, for example- and talk or sing gently to her as she falls asleep. This way she knows that you are there and she is safe.
For more information on the Michi Method, see this post.
Comments
comments