Ask people what they think of 'sleep training' and chances are, sooner or later, leaving baby to cry will crop up. And this is certainly going to spark debate over whether or not it is acceptable to do this. First of all, it is up to the parent to decide if they want to try this method of sleep training. End of. But that's not to say that it's the best way to encourage independent sleeping; in fact, the Michi method is a definite no cry sleep solution, and for many very good reasons. To read more about why I do not recommend parents leave their baby to cry, see this post. Today we're looking at ways you can achieve gentle sleep training success. It's not all about the methods, it's about the approach too.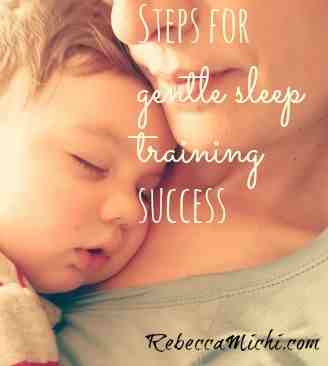 Keep an open mind
Be open to suggestions that might work for your baby. If you want to improve sleep, read up on the subject as much as you can. Read about how much sleep is appropriate for your baby's age. Read up on how baby's fall asleep, what happens when they are asleep, and what things might disrupt their sleep. Keep an open mind to trying little tricks that you've never considered before- for example, a warmed water bottle in the crib before you put baby down might be the one difference between a screaming baby and a sleeping baby. If you keep an open mind to the fact that your baby can sleep, you stand a bigger chance of success in the long run.
Be prepared
Sleep training, gentle or not, takes a little bit of preparation both practically and emotionally. Make sure that you are ready for this. Some babies can take a lot longer to learn the art of sleeping well- perhaps due to temperament (yours or theirs) or perhaps due to their age and current sleeping habits. Either way, prepare yourself for the journey. Practically, make sure that your baby's sleeping arrangements are conducive to sleep training too. Consider where baby sleeps and how practical it is for other member of the family too.
Recruit sleep training partners
You can't do this alone! Sleep training takes time and patience and sometimes (as we are all human) the latter can run thin. Lean on your partner. Gather strength from being in it together. When you're exhausted, take a break and let your partner take over a while. Talk to your partner about how it's going, and what steps you can take to make things better, or do things differently. It's a family journey, and a path you won't want to walk alone.
Be consistent
This is so important for success. Don't chop and change your approaches to sleep training, and once baby is sleeping well don't go slipping back into all habits either. Babies respond so well to routine (as do adults) so make sure you fine tune this and stick with it.
Go with your gut
If something does not feel right to you, or you are unhappy with a method you're trying then go with that gut feeling. Remember that YOU know your baby best, and you are their advocate too. You need to make sure that you're completely happy with all aspects of your parenting.
Prioritise sleep
Make sleep an important priority for your family's health and emotional well-being.Babies need sleep to recharge and to grow and develop too. As their grow, their sleep needs change but the overall health benefits of a good night's sleep remain for the rest of their lives. Teaching good habits now will help them to become healthy adults with good sleep habits too. So take a look at your own sleep habits while you're at it, and make sleep a priority for everyone.
WAIT
Young babies are not designed to sleep for much longer than 2-4 hours at a time. Be patient. Sleep training, even gentle methods like the Michi Method, are not recommended for babies under the age of five months. Before this time, there are steps that you can take to ensure good habits are learned, such as:
Have a consistent routine from birth
 Plan your day around your baby's naps
Recognise and act upon sleep cues so that baby does not become over tired
Make clear distinctions between day and night
Have a set bedtime, and work on set nap times too (although be prepared for these to change as baby grows)
Gentle sleep training success is easy to achieve- believe in yourself and you will succeed!
Comments
comments