Christmas can play havoc with your bedtime routines can't it? All that excitement, the lights, the music, the fever pitch bombardment on the senses… it can leave you feeling a little frazzled. And then we have Christmas Eve, probably THE most exciting night of the entire year when you're a kid. So if you're wondering how on earth you're going to get them to bed on Christmas Eve, fear not. Here are five steps you're going to want to follow!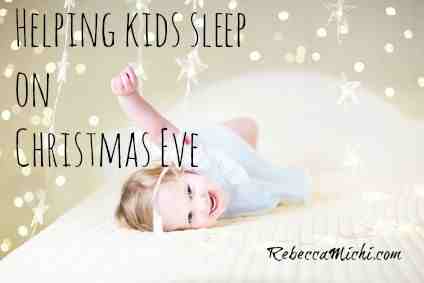 Keep them busy… but not too busy!
As a general rule, kids sleep better and are more ready for sleep if they've been active during the day- more so if some time has been spent in the fresh air outside. Try to keep the kids busy during the day on Christmas Eve, with lots of outdoor play if the weather permits. If not, plan your day so that you're keeping as busy as possible- this is also great for staving off  the 'how long til Christmas?!' nagging too!
That said, try not to do too much on Christmas Eve as you don't want to risk the kids getting over tired, unable to settle for sleep and grumpy. Depending on their age, watch for sleep cues and act on them when you see them. An early night certainly won't hurt ahead of the big day so don't be afraid to wrap things up a little sooner than normal if you need to.
Stick to your usual sleep routine
Remember that good daytime sleep means better night time sleep, so don't let your quest to keep the kids busy detract you from your usual nap routine. If your child usually takes a nap and you know that they need it, don't be tempted to skip it in the hope that they will sleep better during the night. It doesn't usually work that way at all! Try to stick to your usual routine as much as you can so that your child keeps to his schedule and doesn't become too unsettled.
At bedtime, your usual routine is just as important, and you might want to start it a little earlier on Christmas Eve if you have stockings to hang. The kids are likely to be excited, so choose some quiet wind down activities a good half an hour before bath time, and spend a little time explaining the rules for staying in bed. Hopefully your little one will be tired enough to sleep well for you, but if they do wake just follow your usual sleep training techniques to return them to sleep.
Plan your quiet before bed activities well
If you do plan on spending some time with quiet activities before bed, here are some ideas to try:
Hang the stocking, leave treats out for Santa and read a Christmas story together
Make a Christmas card for Santa and his reindeer
Meditate. See this post for more info on relaxation for kids
Baby/ toddler massage– a wonderfully relaxing way to end any day, but especially Christmas Eve!
Listen to music- quietly, of course!
Quiet activities help to slow the mind and relax the body, and can be a good part of your bedtime routine as your child gets older.
Agree some morning rules
While you might want to temporarily take your child's mind off what excitement awaits them in the morning, it might be a good idea to have a discussion on what is going to happen. This is especially important for the child who finds it difficult to settle when he has so many questions to ask, or the child who likes to know exactly what is going to happen on special days. It's a good idea to agree some rules, such as what time is suitable for lights out, what time to get up, and what time the presents will be opened. Let your child help to agree the rules and remind him that as they are his rules, its even more important that he sticks to them.
Keep stimulation to a minimum
Christmas is filled with lights, music and action. All of this can be very distracting and unsettling for some children, so on Christmas Eve it makes sense to keep it down a little. Avoid screen time later on in the day and make use of your quiet activities instead. Help your child to relax and unwind as best you can.
Most importantly, get a good night's sleep yourself and have a lovely Christmas!
Comments
comments