Toddlers are a pretty unique bunch. They are led by their tastes and preferences most of the time, and they are likely to change at the drop of the hat. One day blue socks are fine, the next they most definitely are NOT! So how to keep up with such fickle little people when it comes to sleep? It can be done gently. There is no need to create a battle at bedtime. If your toddler is not sleeping so well, here are some gentle sleep training tips to try.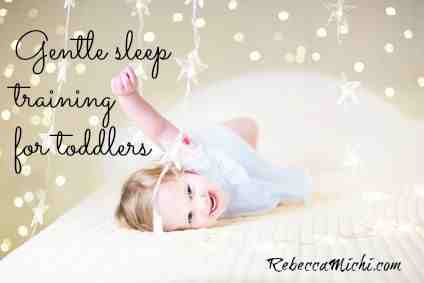 Understand where the sleep issues are coming from
The bonus of your toddler being a toddler is that he is likely to be able to tell you what's bothering him. So if something is keeping him awake, or stopping him from falling asleep he may be able to tell you. Sometimes you will need to use your own instincts too. Look for signs of separation anxiety, and be mindful of things that are happening right now- such as a move from crib to bed, house move, potty training or new baby arriving. All of these things can disrupt a toddler's sleep so if you know what you're dealing with in the first place the whole process will be a lot easier.
Make sure your toddler's room is just right
As already mentioned, toddlers can be particular so when it comes to sleeping you want his room just right. Not too hot nor too cold. The right blankets on the bed and favourite toy in hand. If your toddler likes white noise, make sure he has it. Use a night light if it is needed. And make sure that your bedtime routine is calm and peaceful.
If your toddler struggles to fall asleep
If your toddler has problems falling to sleep and wants you with him, it's fine to do that. Give him reassurance and let him be confident that you are there for him. If your toddler likes you to be there with him as he falls asleep, here are some tips to try:
Agree a bedtime routine that suits the whole family, and make sure that your toddler is part of this process too. So for example, agree on bath, two stories, one song and then lights out. And stick to this routine every single night.
After lights out, stay with your toddler for the first few nights, making sure that the room is conducive to sleep. So night lights on, white noise playing etc. Make sure your toddler is warm enough and has used the toilet.
Stay with your toddler as he falls asleep, and don't leave until you're sure he's properly asleep. Some toddlers will like to test you out and it helps to reassure if you're still there when they open their eyes to check!
Over the course of a week or so (depending on your child) you can reduce the amount of time that you spend with your toddler as he falls asleep. So after two or three nights, tell him you will stay for ten minutes, and then five minutes.
If your toddler wakes and calls for you, go to him and repeat the process. The more you respond to his calls, the more he will grow in confidence that you are there for him when he needs you.
Eventually you should be able to read your toddler a story, turn out the lights and say goodnight without needing to stay with him at all. But keep in mind that all children are different so it could take a week, or it could take a month. As long as your toddler knows you're there for him, he will eventually trust that it's ok to go to sleep without you.
If your toddler wakes in the night
First of all determine why exactly your toddler has woken up. He may just need a drink of water and that's it. If he's unable to tell you, or simply has woken and cannot get back to sleep there are several gentle options you can try.
Repeat your sleep training techniques- ensure the room is just right for sleeping and stay with him until he falls asleep.
If your toddler wants to come in with you, you could try camping out with him instead. Pop a mattress on the floor (temporarily) so that you are there for him, but your toddler is getting used to being in his own bed for sleep. Make sure your toddler knows it's not a permanent solution!
Remain positive with your toddler- when he sleeps in his bed all night, make a big deal of it and let him know how pleased you are.
Thankfully, most disruptions to your toddler's sleep will be temporary and normal service should be resumed soon enough. Do get in touch if you need any more help or advice!
Comments
comments