As a parent, your number one priority is keeping your precious bundle of joy safe and away from harm's reach. And you do that by ensuring that your home is as safe as can be, and that all care givers are up to date with safety issues that crop up. After all, you are your baby's biggest advocate and you are responsible for making sure she is as safe as can be at all times. And it's not just when they're awake either. Safe sleeping is a must, and there are certain guidelines you can follow to ensure that your baby is as safe as can be whilst sleeping. We've already written about safe co-sleeping and bed sharing, so this week's post is a little on crib safety- guidelines to help you keep baby safe.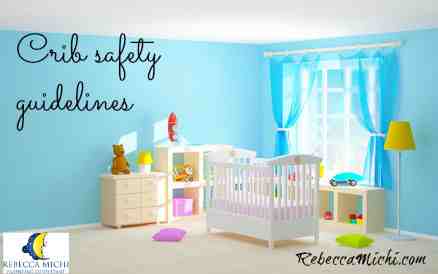 Choosing your crib
Your baby is going to spend a lot of time (hopefully!) in her crib, and although comfort is obviously important, safety is a must. So when you're choosing your crib, keep in mind the fact that you are going to want it to last at least two to three years. It needs to be sturdy and it needs to be constructed properly. If you're unable to put it up yourself, employ the services of someone who can, and make sure the instructions are followed carefully.
For the first few weeks at least, you might want your baby to sleep in a bassinet rather than a crib. Again, make sure that you go for one that is well made and sturdy, and if it has a stand make sure that is constructed properly too. Many babies will sleep in a bassinet for the first few months, meaning you have a little longer to choose the crib too.
Choosing your mattress
A good mattress needs to be able to support your baby's back and to keep her safe while she sleeps. Of course comfort is also key! Your crib mattress should be firm, supportive, flat and specifically made for babies. The following types of mattresses are available:
Foam mattresses- tend to be the cheapest option for your baby's crib, and they're light too. Usually available in a variety of thickness, foam mattresses can be tricky to choose as density is not always listed on the product information. The higher the density, the better the mattress, so it's a good idea to compare a few before you buy. Memory foam mattresses tend to weigh a little more, and a good test to carry out is to push your hand down firmly to see how long it takes to recover. The faster the recovery, the better- this is a great indication of how the mattress will fair when baby sleeps on it. You want a resilient mattress that will stand the test of time.
Innerspring mattresses are a little more expensive than foam, and tend to be a little more durable too. For quick reference, the lower the guage of the mattress, the better the firmness so the better the mattress for baby. Look for a guage of around 15.5 or lower.
Organic mattresses often fall in the highest price bracket, but many parents prefer them and believe them to be the superior choice. They are usually cotton or wool, and can be either foam or innersprung. What makes them organic is that they are not made with any chemicals, and advocates maintain this is better for baby.
Crib mattress safety guidelines:
Use second hand mattresses with caution. If you can, always buy new for each baby, even if the previous 'occupant' was a sibling.
If you know that your second hand mattress has been stored carefully, cover it with a protective removable cover and check regularly for signs of wear.
Don't use air mattresses- baby's mattress needs to be firm to ensure suffocation is not a risk.
Check the size of the mattress fits the crib perfectly- no gaps around the edges or at either end.
Clean your mattress regularly and especially after baby is sick or has a leaking diaper etc.
Crib mattress checklist
Is it firm?
Is it the right size?
Is the mattress cover durable?
Does it have suitable ventilation? Look for small vent holes at the sides.
Is is certified as safe for use by CPSC and the American Society for Testing and Materials? Organic mattresses are certified as organic using the Global Organic Textile Standard.
What to look for when you buy your crib
There are so many beautifully designed cribs on the market, but the one you choose needs to be safe and usable. There are several points to consider when you buy:
Is it stable? Give it a little shake and see how it stands up to the test. A rattling crib has either been put together incorrectly or is not stable enough for use.
Are the slats close enough together? Too far apart and they could pose a risk to baby. They should be no more than 2 3/8 inches apart.
Does it have safe corner posts? If they're higher than 1/16 of an inch they could pose a choking hazard as clothes could get caught.
Does the mattress height adjust? When baby is able to sit up, you will need to adjust the height to the lowest setting to prevent her falling out.
Crib safety guidelines:
Don't use a drop-side crib. These pose a serious risk to babies and should be avoided altogether.
Don't use crib bumpers- these have been linked with SIDS deaths and are no longer regarded as safe to use.
Make sure all bedding is tucked in tightly and there are no loose covers.
No toys in the crib! Loveys are only recommended after the age of 12 months.
Check second hand cribs carefully- models made before federal guidelines went into effect (1973) may not be safe to use.
Avoid decorating your baby's crib with cutouts, stickers or hanging decorations.
Where will you put the crib?
Lastly, you need to consider where the crib will go. It's recommended that baby sleeps in the same room as you for at least  the first six months (which is often why many parents prefer to use a bassinet at first) but the rules still apply whichever room the crib is in:
Do not place near furniture where baby could climb.
Do not place near windows and blinds.
Keep baby monitors with cords away from the crib.
Do not place near heaters.
For more information, please check the guide from the American Academy of Pediatrics.
Comments
comments