We hear lots about breastfeeding, and how this is the 'best' way to provide nourishment for our babies, and while I am not debating this, I do think we need to discuss bottle feeding a little more. There are many reasons why some mums choose to bottle feed their babies, and there are even more reasons why some mums just cannot breastfeed. It's not up to us to judge another mum for the way that they feed their baby; support is needed for all mums, regardless of the method of feeding they choose. So today's post is all about what you need to get started with bottle feeding, and some practical tips too. Choosing to bottle feed your baby should be an informed choice, and supported by all.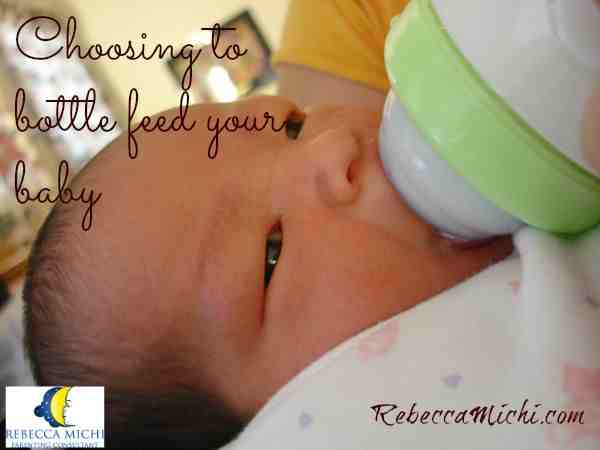 Make your decision
If you've made your decision to bottle feed your baby, that is your decision and nobody has the right to question it. Try to separate the politics from your own emotions surrounding the issue, and work with your doctor to ensure your baby gets exactly what she needs from her formula feeds. Your doctor will chart your baby's growth and if there are any concerns, you can discuss the appropriate plan of action.
Choose your formula
There are many brands of formula to choose from and your doctor can help you to decide which one is best for your baby. If she has allergies that you're aware of, this will need to be considered carefully. You might find that you end up trying a few before you and baby settle on one that works well.
Equipment
It's true that bottle feeding requires slightly more equipment that breastfeeding, but it is all very readily available to buy in stores on online. You will need:
at least six bottles
at least six teats
bottle and teat cleaning brush
sterilising equipment
As your baby grows, the size of the teats will need to be changed too. Regularly check your bottles and teats and replace if there is any sign of wear. All bottles must be sterilised before use until baby is around 12 months old, and make sure that you clean them thoroughly first.
The type of bottles that you use are, again, up to you. Some are marketed as anti–colic and some are designed specially to mimic breastfeeding as closely as possible. It might be a case of trying one or two and seeing which works best for you. Disposable bottles might work well for you if sterilising is not an easy option, or if you are only giving your baby a bottle occasionally. Likewise, there are different types of sterilisers that you can use too. Some are electric, some go in the microwave and some use cold water and sterilising tablets.
Bottle feeding schedule
Unlike breastfed babies, bottle fed babies tend to feel full a little longer between feeds, but this can depend on your baby. Speak to your doctor about feeding schedules if you need to, but as a general rule:
Your baby will feed as often as she needs to, so learn to spot the hungry cues before she becomes ravenous!
Newborn babies will feed more often due to their small tummies, so offer a bottle every 2-3 hours. As she gets bigger, you should be able to stretch this out to around every 3-4 hours instead.
Discuss with your doctor how much formula to give your baby according to her weight.
Safety first
You must sterilise your baby's feeding equipment before each and every feed.
Store all formula milk according to manufacturer instructions and away from young children.
Discard unused feeds- never re-heat and give to baby.
Always prepare your baby's formula according to the instructions.
Test the milk's temperature before feeding baby.
Don't be tempted to add anything extra to your baby's bottle.
If you bottle feed your baby, it's important to follow the safety instructions as carefully as you can, to avoid making your baby poorly.
Comments
comments