Christmas is an exciting time of the year, no matter what age you are! And so it stands to reason that your bedtime routines might need adjusting a little. It is a holiday after all! Last year we wrote about ways that you can help baby stick to a good routine over the holidays, so this year we're focusing on older kids. Good bedtime routines at Christmas are just as important for the older ones too!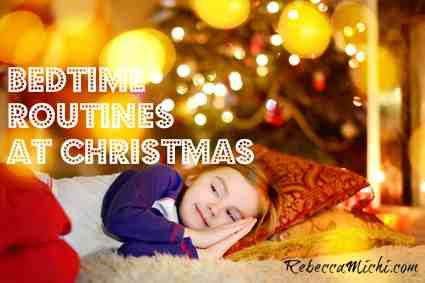 Be flexible
While a good bedtime routine is always important all year round, there are times where it pays to be flexible. The odd late night here and there really won't hurt. If you know you're going to be out late one night then don't sweat it- these occasions aren't likely to happen every night and if you already have a good routine in place it shouldn't be too hard to pick it up again.
Know how to deal with late nights
If you know you have a late night ahead of you, it might help to prepare as much as you can in advance. Here are some tips to help you:
If you're going to be with friends or family, arrange to move bathtime to their house instead if you can. Then bathe the kids before you leave, pop them into pyjamas and let them doze in the car on the way home. Hopefully the transfer to bed will be painless and at least they will be ready for bed.
If you do the routine at home, set everything out before you leave so that when you return you can move through all the steps of your routine as swiftly as possible. Don't skip important sleep cues, but don't spend as long as you normally would so you aren't delaying bedtime any longer than can be helped.
Keep the day after a late night as clear as you can and allow the kids to rest as much as possible. If you know your kids aren't likely to sleep in after a late night its even more important to keep things as quiet as possible the next day.
Allow for some tiredness but set some boundaries too. Limit screen time and sugar to combat any adverse behaviour that might crop up. Arrange some quiet activities instead.
Be led by your child
Don't feel like you have to relax your routine just because its Christmas. Some children don't respond too well to late nights full stop, and if you know that's the case then stick to your usual routine without exceptions. If your child appears more tired than usual, perhaps you need to adjust the routine the other way and start your bedtime routine a little earlier instead. Remember tha Christmas can be a very busy period, and often the activities and extra stimulation it brings can tire some children more than usual.
Be led by your child and allow them to set the pace for the holidays, but don't let them convince you a late night is a good idea when you know for sure they're exhausted!
Limit the sugary treats
Christmas is a time of over-indulgence but this can wreak havoc on sleep. Try to keep the sugary treats to a minimum if you can and serve up healthier treats instead. Take a look at this post for more information on how food can affect sleep.
Comments
comments