Having already written about and busted some common sleep myths in this post here, I thought it was time to tell you about some more. Because parents will never run out of well meaning friends and family keen to impart wisdom! So here it is- 5 more infant sleep myths BUSTED!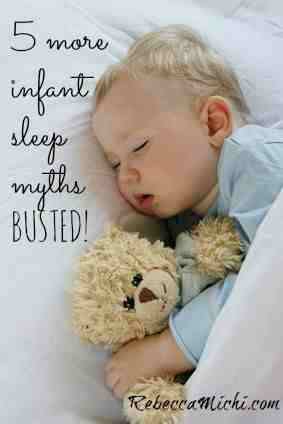 Myth #1
ALL babies should sleep through the night by 4 months old*
What utter nonsense! How on earth does your baby know that it is now time to 'sleep through'? Let's not even get started on what 'sleeping through' is. Let's talk instead about YOUR baby.
Only you know your baby, and what makes her who she is. And she is a unique individual, so don't expect her to 'conform' to standards other people have set for her. She might sleep through by 4 months. She may have already started! Or she might need to continue waking for night feeds a little longer yet. That's up to her. She won't be aware of any expected schedules so the best thing you can do is ignore this common sleep myth.
*While we're at it, your baby's weight also has very little influence on when she will sleep through the night too. That magical 12lb marker? Yep- that's a myth.
Myth #2
Some babies are just 'bad sleepers'
First of all, you have a huge say in how well your baby sleeps. Yes, her temperament plays a large role in it all, but it's up to you to teach good sleeping habits. Don't just accept that your baby is a 'bad sleeper' and that's that. One of the best and most rewarding gifts you can give her is the gift of sleep- and it's not that hard to do. Take the plunge, and make steps to turning your 'bad sleeper' into a good one instead.
Myth #3
Baby number one slept through at two months old so there's no reason why baby number two won't be the same
The immortal last words! Again, your baby is a unique individual, whether she has a sibling or not. And unique individuals have their own personalities and temperaments that are reflected in their sleep. So how on earth does your baby knows how well her sister slept? The fact is, she doesn't. She might sleep through at two months old, or she might not.
Myth #4 
Some babies just don't need much sleep
ALL babies need sleep! True, some will need a little bit more than others but they all need naps through the day and good stretches of sleep at night. As a general rule this is how much sleep a baby needs:
1 – 2 months old 10½ – 18 hours per 24 hours
3 – 11 months old 9-12 hours at night, 30 min-2 hour naps, 1-4 times a day
12 months – 3 years old 12-14 hours per 24 hours
18 months – 1 nap of 1-3 hours, 10-11 hours at night
So if your baby is getting much less than this there is a very good chance she is not getting enough. You'll probably know this if she is cranky, unsettled and waking a lot at night too.
Myth #5
There's no point worrying about sleep until baby is a toddler
And with this comes all kinds of problems. Firstly, sleep deprivation that occurs over a long period of time can have extremely detrimental effects on your health and well-being. Secondly, if you wait until your baby is a toddler before you tackle the issue of poor sleeping, you are likely to make things a lot harder!
Toddlers come with a whole different set of rules and persistences to challenge your sleep training techniques. Toddlers can get out of bed. Toddlers can throw tantrums. Toddlers are more likely to resist your attempts at making sleep a priority. The easiest, and kindest, thing to do is tackle sleep while your baby is a baby.
What sleep myths have you been told recently?
Comments
comments