Just when you feel your baby is finally sleeping well, settling into a pattern, what happens? A sleep regression. Only you might not realise it's a sleep regression. You might even think that sleep regressions are just a myth. Unfortunately not. Sleep regressions are real, and they  can be hard work too. Here's some information on when to expect a sleep regression and why they occur.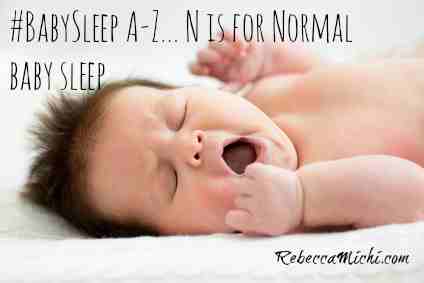 Why do we need sleep?
We need sleep for energy and for the body and brain to develop and grow. Babies need more sleep than adults because they have more growing and developing to do. And that's s simple explanation, but it's true. Sleep is a hugely developmental process; our sleep needs change as we grow.
How do babies sleep?
As already previously discussed, newborn babies can sleep for up to 18 hours a day, but often in 2 to 3 hour chunks. By the end of the first year, sleep duration falls to around 15 hours with the majority of sleep occurring at night-time, as natural circadian rhythms develop.
A healthy baby will experience several wakings at the end of sleep cycles during the night. Some babies will settle back to sleep, others won't. Newborn babies in particular will wake for food simply because they have tiny tummies that need filling more regularly- so most new parents should prepare themselves for this. But what about older babies?
By the age of 3 months or some babies begin to start settling and sleeping through at night- a stretch of up to 5 hours. Yes, really. By the time they're 5 months or so, around half of them may start sleeping for an eight-hour stretch on some nights. The majority of babies won't sleep all night, at least not consistently, until they're around a year old. Of course, some will take longer. So that question about whether baby is good? Don't ask it!
Normal baby sleep
It's normal for babies – especially when breastfed – to wake and feed at night throughout at least the first year. Often pressure to get baby to sleep can cause problems in breastfeeding as mom may choose to stop in the hope that baby will sleep 'better'.
It's also worth considering that babies have their own unique circadian rhythms and encouraging them to sleep for longer stretches than they're ready for could disrupt the sequence of these rhythms. This in turn can affect patterns such as those that control the regulation of temperature and hormone production. So sleeping through might not be the best thing for baby after all.
Where does sleep training come into it?
Sleep training isn't recommended before six months of age, and I do not ever recommend that you leave baby to cry. When your baby cries she is communicating with you, and she needs you. If she wakes and she needs a cuddle, a feed, or for you rock her for an hour, that is completely normal! What some parents may perceive is a sleep problem may actually be normal baby sleep.
Consider your baby's age and what is deemed normal at that stage of developments. And then use gentle sleep training methods to help guide your baby back to sleep.
Comments
comments