The early days after you bring your baby home from the hospital are strange days indeed. You are spending time getting to know your baby, and she you, and you are in a kind of limbo land between 'normal' life and your new life with baby- especially if your partner is also home from work too. Hopefully you'll spend this time cherishing the precious fourth trimester, and taking it easy after the huge task your body has undertaken in the last nine months or so. Your recovery after pregnancy and birth is so important, and should not be underestimated either. This week we're talking about the importance of allowing yourself time to heal from surgery with 5 tips for c-section recovery. Hope they help!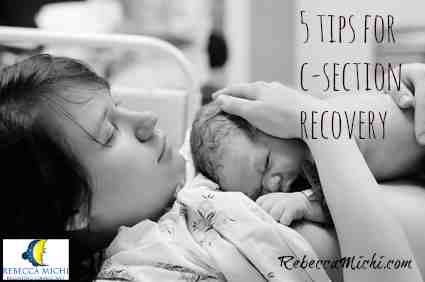 You've had a major operation
Before we begin, please understand that a c-section is a major operation and therefore you are going to have to limit your activity somewhat for a few weeks, and be especially careful in the first few days after birth. Please don't feel you need to 'spring back' in any way during the recovery period. Allow your body time to heal and take it as easy as you can!
And now for the 5 tips that will really help your recovery…
Stay on top of pain relief
While you're in the hospital you will be given pain relief medication to keep you as comfortable as possible, and you may even feel that you are recovering so well that you don't need to take any more. Please remember that when the medication wears off, you are going to feel it! The hospital will have a strict timetable for medication and you should continue this at home, following their advice on when to drop down the doses. If you don't stay on top of pain relief, you may find that your recovery is a lot slower because you are in a lot more pain for longer. BUT…
remember that just because you don't feel pain (thanks to the medication, or because you are healing) doesn't mean you will be fine to jump back into life headfirst. You need to take good care of yourself to ensure that your stitches heal properly, and remember that internal bruising from the surgery can take a good few weeks to fade away too.
Don't try to do it all, just because your're feeling better. And don't try to skip pain relief because you think you should be feeling better. We're all different and we all tolerate pain in different ways.
Don't lift anything heavier than your baby for at least 6 weeks
This is common advice given to c-section moms, and for good reason too. Your baby weighs a few pounds- that bag of groceries might not. And if you go around lifting and carrying heavy items (including older children) you are going to put your scar under strain and potentially set your recovery back further. Allow others to do things for you for a while- and enjoy the time with your baby instead.
And speaking of older children- it might be an idea for you to discourage them sitting on your lap too. Even the most gentle of toddlers squirm and can accidentally prod or poke your scar- OUCH!
A cushion is your best friend
Don't underestimate how much you're going to need a cushion. Make that two. One for behind your back, to support you while feeding and sitting, and one for the rest:
coughing
laughing
sneezing
hiccups
Press the cushion against your scar when you do any of the above and breathe. It's going to hurt for a while, but it will get better!
Walk straight
Don't be tempted to stoop over when you walk. Your posture is really important after a c-section and if you stoop you're doing your back no favours at all. Some women experience back ache after a c-section, as a result of the spinal anaesthetic, so it's really tempting to adopt this 'old lady' position. Plus, you have a scar across your abdomen, which makes you want to walk in a way that protects it. Believe me, walking straight, tall and proud is the only way to go.
Don't forget your pelvic floor!
Just because you didn't push your baby out through your pelvis, doesn't mean your pelvic floor can be neglected. You just went through nine months of pregnancy (which puts a huge strain on your pelvis) and you may have laboured before you c-section also. So do your exercises each and every time your baby feeds, and every other moment that you remember too. So important.
What are your c-section recovery tips?
Comments
comments